Muskoka Bible Centre
Establishment, campground, lodging, park, health and book store at 155 Hood Road, Huntsville, ON P1H 2J3, Canada. Here you will find detailed information about Muskoka Bible Centre: address, phone, fax, opening hours, customer reviews, photos, directions and more.
Opening hours
| | |
| --- | --- |
| Sunday | 09:00am — 04:30pm |
| Monday | 09:00am — 05:00pm |
| Tuesday | 09:00am — 05:00pm |
| Wednesday | 09:00am — 05:00pm |
| Thursday | 09:00am — 05:00pm |
| Friday | 09:00am — 05:00pm |
| Saturday | 09:00am — 05:00pm |
Rating
3 /5
Based on 2 reviews
Photos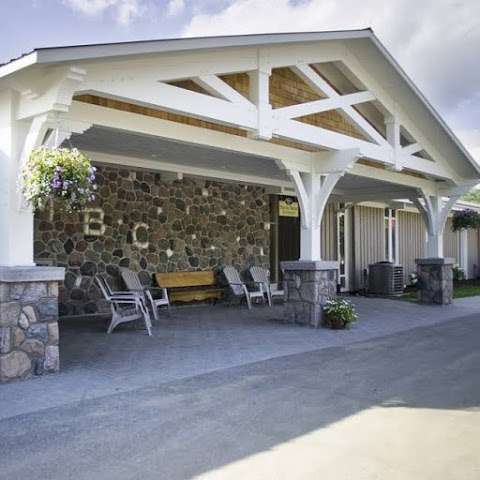 Reviews of Muskoka Bible Centre
Starwars Man Added 2017-10-12

★ ★ ★ ★ ★

I've been going for years... great memories. Food, the people, the scenery, things to do are all fantastic.

P Luch Added 2017-10-09

★ ☆ ☆ ☆ ☆

Was there for a week in July 2017. Sorry. Not a great place if you like some semblance of peace and quiet as part of a relaxing holiday. Very loud and busy. Cafeteria, diner, beach, etc. all extremely loud (people and kids talking, yelling, chanting, etc.) and constant trucks and traffic on internal roads as no separation of service trucks and service entrances. Evenworse, I got bacterial poisoning there: campylobacter - from poorly-handled food, unsanitary poultry, or, their water. I was very sick for a week. All public washrooms smell and are dirty. Beach is very busy and parents let toddlers in the water with diapers and then were often taking the diapers off spreading disease and bacteria in the water used for swimming. Also no lifeguards at beach which is very concerning given the amount of people swimming in the water. Also some jerk was flying a drone over the people lying/playing on the beach. Some one got mad and through their shoe at the drone - rightfully so. Good thing is lots of programs for kids and cheap price, but, sorry not enough - won't be going back. BTW - local health unit had to be contacted by my doctor and is investigating.
About muskokabiblecentre.com